Where Psychology Meets the Soul
AJNA is a haven where seekers come to learn gentle methods of self-discovery and stress diffusion. Founded in 1987, the objective of AJNA Center for Learning is to assist one and all in discovering and accomplishing their life's purpose. We blend insights and discoveries from science, metaphysics, energy medicine, behavioral genetics and spiritual consciousness.
Discover the Richness within You
Our aim is to fight the stigma attached to emotional well-being and counselling therapy. We also believe in the power of choice, and that, no matter what one's circumstances are, one always has a choice. 
Through Cellular Alchemy, we help uncover instant results through the power of choice. When you work with us, you will experience a deep connection with your own sphere of consciousness and light. 
Emotions become the key to functional creativity and productivity. Negative feelings can be transformed instantly and with total ease. We walk the path with you to help you optimize your potential in all areas of life.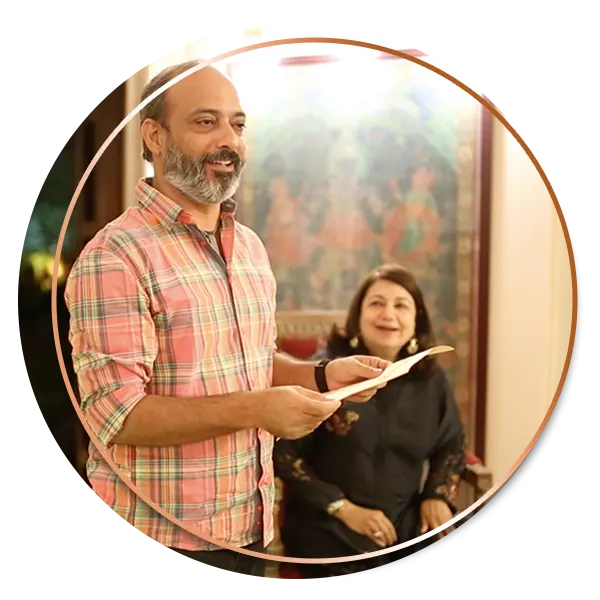 Pick a dream that's bigger than you. Create a higher rung on your ladder to success!
Gently peel away the layers of self-imposed limitation that undermine our worth and create insurmountable stress
Kinesiology works because it is a direct access to the body's cellular memory.
A New and Different Method of Emotional Counselling
We also assure our clients 100% confidentiality and privacy. They can rest assured that AJNA Center of Learning is a safe space where their well-being is our biggest priority. 
Grounded with Emotional Intelligence techniques, coaching is an enriching and transformational experience and lays the foundation for the rest of your life. It is an incredible opportunity to learn to unleash your natural strengths, live in alignment with your purpose and improve relationships, performance and health.
While AJNA doesn't offer cures or treatments for disease, we do see real changes in clients who have physical manifestations of stress in their bodies. The facilitators at AJNA help clients overcome limiting belief systems and defuse unhealthy stressors in their lives.
The Malhotra Weikfield Foundation
Ajna Center for Learning is a not-for-profit organisation. The proceeds of the work at AJNA Center for Learning goes to The Malhotra Weikfield Foundation. 
Our Founder Ritu Malhotra is the Managing Trustee of the Malhotra Weikfield Foundation, set up by her family.
The Foundation aids deserving students of science and technology, especially girls, in accomplishing their goals without taking on financial burdens. We are dedicated to the development of future Nobel Laureates from India. 
As a Trustee of this foundation, Our Founder, Ritu Malhotra, takes pride in AJNA's unwavering commitment to science, technology and innovation excellence.
My experience at Ajna was emotional, revealing, and deeply moving.

. From the very first session it was like Ritu was speaking my language and all the work we did together resonated with me. I have used affirmations before, but the way it was explained, correlated, and connected to the body has remained with me. Ritu's energy is infectious, and her manner effortlessly inspires trust. She created a safe, trusting space to discover, question, and share without judgment or preaching. I have consistently noticed mental awareness and progress long after we were done face to face, and rely on her techniques to circumvent obstacles and keep the momentum going."

Shabbhavi
I loved the course and can see new opportunities in my life.

"The Ajna life coaching course is a powerful program for individual as well as professional development. Warren and Ritu bring all their heart and years of experience to the learning process. I loved the course and can see new opportunities in my life as a result of sharing in this unique learning program. Thanks Warren and Ritu!"

Kumari
I now feel at peace, calm and know I'm where.

"Before visiting Ajna Centre and meeting Ritu I felt confused and unsure of the way forward. Through Ritu's wonderful insight and guidance it helped me open up and release things that were no longer serving me and let go of many things that stood in the way of my personal and spiritual growth. I have found my sessions with Ritu invaluable. I'm meant to be in this moment. Thank you for the support, encouragement and belief in me."

Amrit K.T.
Always grateful to you for changing my Zindagi and making it beautiful.

I saw " Dear Zindagi " today. While the movie covers only 5% of the good work you do. It gives out such an important message that taking therapy sessions is not a taboo. It makes huge huge difference to one's life. But it was a big taboo 22 years back. Really really grateful for making me understand in those initial days that there was nothing seriously wrong with me but we were just tying up some loose strings.

Eknath Ganbote
At AJNA, discover what your subconscious mind wants to tell you through muscle testing.